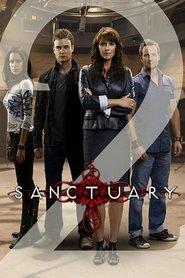 Sanctuary Season 2 Episode 10
Magnus and Will investigate a number of inexplicable teenage disappearances. The common denominator in the case seems to be that they all recently spent time at an exclusive rehab clinic in Mexico.
Paying a visit to the clinic, Magnus and Will are surprised to meet the program's director…none other than a disguised Nikola Tesla, one of the original Five.
Tesla portentously explains he has been working on a treatment that cures the teens of their addictions in merely a week. Magnus and Will know Tesla has an ulterior motive and press him to disclose the real purpose for the clinic. Unable to hold back his excitement, Tesla reveals he is actually turning his patients into Vampires.
Tesla's treatment is designed to create a time-release of the Vampire gene, evolving his unsuspecting patients into Vampires over a 30-year period. But when one of his patients discovers the formula to speed up the process, they find themselves up against a powerful and determined group of new Vampires. Unless they can be stopped, Magnus fears Tesla may have unleashed the resurrection of the deadliest race of Abnormals ever to roam the Earth.
Episode Title: Sleepers
Air Date: 2009-12-18
Year: 2009