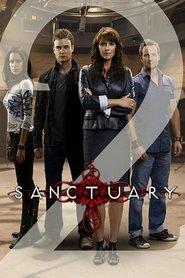 Sanctuary Season 2 Episode 9
Magnus is reunited with an old friend, Jimmy who is transporting a valuable elemental Abnormal to the Sanctuary for safety.
But an underground mob accustomed to cashing in on the Abnormal black market, tracks down Jimmy and his valuable cargo before the delivery is complete. Magnus and Jimmy find themselves in a dangerous shootout, determined to save the Abnormal. Will, Kate and Henry are quick on the scene as backup. Kate proves her worth when she manages to get Jimmy and the Abnormal to safety. But not before taking a shot from one of the mobsters herself.
Hiding out in an abandoned, derelict motel room until the immediate danger of the mob passes, Jimmy tends to Kate's gunshot wound. With little to do but talk and wait for Magnus to find them, Jimmy and Kate discover an unexpected common history.
Episode Title: Penance
Air Date: 2009-12-11
Year: 2009